On the canvas: ARTS project features both nature and whimsy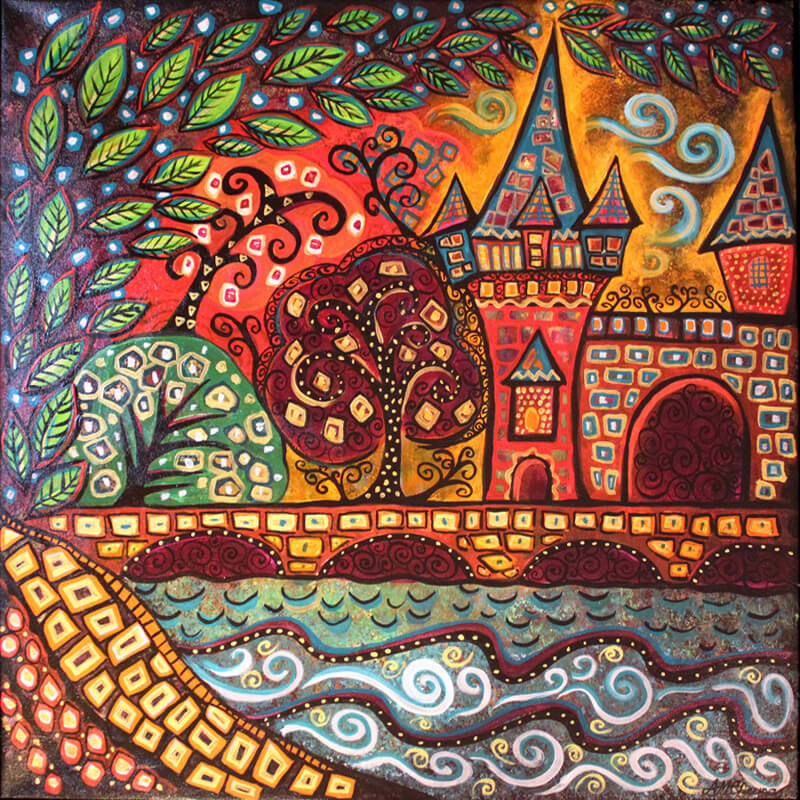 Happy Castle by Ann-Marie Cheung is part of an exhibition of the Toronto artist's work on at The ARTs Project until Nov. 1. (Richard Gilmore/Special to QMI Agency.)
A once controversial Toronto artist and a London artist have separate shows at a downtown gallery.
Anne-Marie Cheung, whose work sparked controversy in the early 1990s for paintings that showed women in bondage that led police to order the removal of the offending pieces from a storefront, presents new works in The Healing Garden exhibition at The ARTS project.
Also at the gallery is work by Gallery Painting Group member Ingrid Arnet Connidis titled Roots.
"Old homes, big trees, nature, animals, being outdoors in city or country — all are roots to my artistic inspiration and contentment," said Connidis in a press release.
"They bring the past to the present as I take my turn in the circle of life. Painting allows me to relive them and express how they make me feel."
Cheung's work is starkly different, her paintings colourful and playful.
""Welcome to my whimsical, magical garden," says Cheung in a press release.
"This is where I come to play. This is where I come to heal."
Cheung has been a fixture on the Canadian arts scene since the late 1980s and the controversy surrounding her bondage series. She mainly works with acrylic paint but also uses mixed media, pen and ink, encaustic and glass.
Cheung said she is "inspired by the natural world, mythology and dreams."
In a press release, Cheung said The Healing Garden "explores spirituality and the process of art as a healing tool. These present creations investigate colour, texture and patterns combining ancient symbols and mythologies to create something mystical, joyful and primitive."
A graduate of the Ontario College of Art & Design, Cheung's work has been featured in exhibits across Canada and is in private and public galleries around the world.
IF YOU GO
What: The Healing Garden, featuring works by Ann-Marie Cheung.
Where: The ARTS Project, 203 Dundas St.
When: Opening reception, 5 p.m., Friday and continuing until Nov. 1.
IF YOU GO
What: Roots, an exhibition featuring works by London artist Ingrid Arnet Connidis.
Where: The ARTS Project, 203 Dundas St.
When: Meet the artist, noon, Saturday, and continuing till Nov. 1.
Source: http://www.lfpress.com/2014/10/22/on-the-canvas-arts-project-features-both-nature-and-whimsy