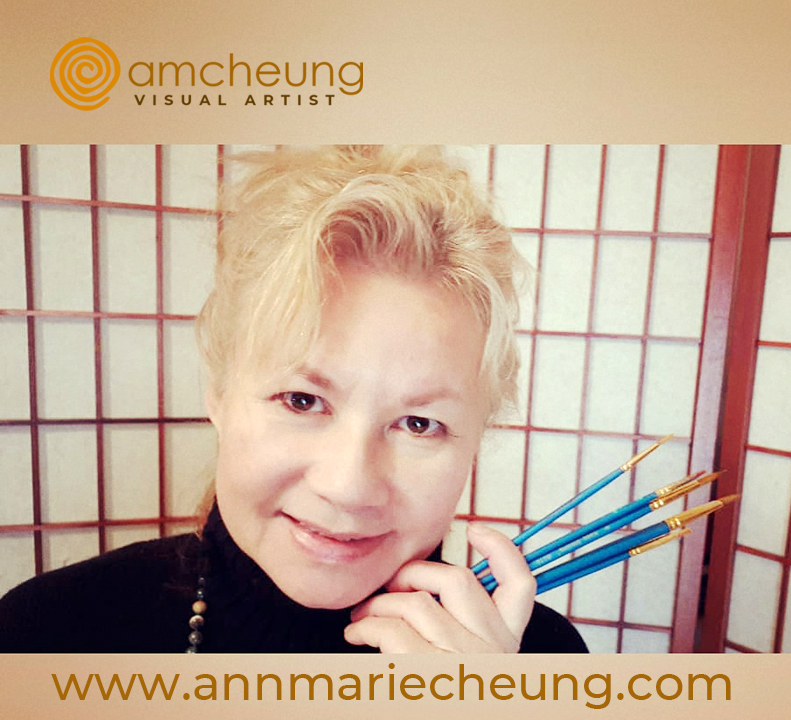 Ann-Marie Cheung, AOCA
Visionary Artist, Creative Alchemist and Guide is a graduate of the Ontario College of Art, Toronto, Canada.
An avid traveler, she has backpacked across Europe solo, rode an Arabian charger through the Valley of the Kings and Queens in Egypt, had a tattoo business in the Canary Islands, and crewed on a sailboat for Antigua Race week in the Caribbean.
Through life's twists and turns, she had a successful freelance Multimedia Design business for a number of years while being at home with her 2 children. When she's not creating, Ann-Marie can be found experiencing scuba diving, practicing yoga and Brazilian Jiu Jitsu or planning her next wild adventure.
Ann-Marie helps adventurous spirits create a joyful, magical space in their lives with her unique and vibrant, artwork. She invites you into her fascinating world of exotic colours, ancient patterns, ornate textures and rich symbolism where she is constantly exploring and creating with acrylics, mixed media and digital tools.
Recently she has become very interested in creating public art projects which include digital murals, painted picnic benches and traditional painted wall murals.
Her award winning work is part of the Canada Council Art Bank and can be found in numerous private collections around the world.
As a Creative Experience Guide she helps you to heal your heart with your own art practice. Ann-Marie teaches you a meditative painting practice that uses sacred symbols and a super easy layering painting process that activates the right side of your brain so that you bring your whole being into a new state of balance and abundance.
---