Art from the Heart at the Westland Gallery, London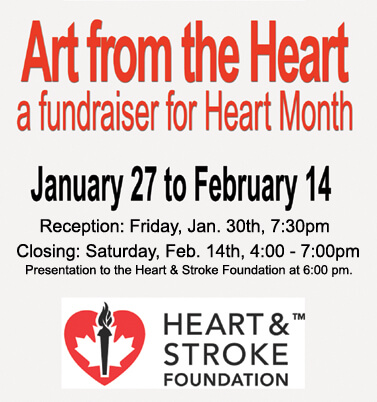 T: 1-519-601-4420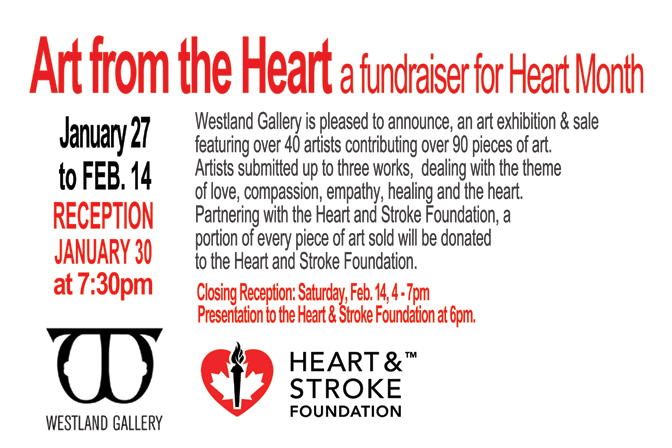 January 27 – February 14
Reception Fri., Jan. 30th at 7:30pm
Closing Reception Sat., Feb. 14th (Valentine's Day) from 4-7pm
Presentation by the Heart and Stroke Foundation on Sat., Feb. 14th at 6pm.
About the Exhibition
Westland Gallery is pleased to announce, Art from the Heart, an exhibition featuring almost 50 artists. Coinciding with heart month, we asked artists in London and region to submit up to three works that dealt with the theme of love, compassion, empathy and healing.
As an added feature we have accepted a generous donation by Patience Morrisey, who will be remitting 100% of the profits from the sale of Tree of Hearts (a recent pastel). As a 92 year old professional artist and stroke survivor, Patience graduated from the Ontario College of Art and Design in 1948 and has been painting ever since.
Both the artists and Westland Gallery will be donating a portion of its profits directly to the Heart and Stroke Foundation. We are thrilled to be able to help the cause of the Heart and Stroke Foundation and thank all of the artists who have helped make this possible.
Check out the London Free Press article "On the Canvas" to see some of the press coverage.
For more information and to view some of the works in the show go to: http://www.westlandgallery.ca/art-from-the-heart.html