by Ann-Marie Cheung
I'm working my way through the The Artist's Profit Plan training with Alexis Fedor. This is the first work sheet The Power of your Purpose.
What is the first memory you have connected to creating art?
I can't remember my first time creating art, but aren't all children creative? I remember my mom showing me how to draw cartoon cats. I had a wonderful elementary school teacher who gave me advanced class assignments. While the other kids were drawing cones and spheres, I was learning to draw and shade drapery. Miss P. with her heavy blue eye makeup, long dark hair and mini skirts (this was the 70s) was an amazing guide. I was also fortunate to have a fantastic high school art teacher, Miss W. I remember her heavy Egyptian style eye makeup and long black hair. We had an artists cafe night where we would paint a self portrait in the style of a certain artist. I chose Van Gogh, don't know what happened to those early paintings. She also arranged my first public group art show of still life charcoal drawings at the Toronto Dominion Centre in downtown Toronto. With so much encouragement how could I not decide on an art career attending the Ontario College of Art.
What is the most profound experience you've had as an artist in your life (if you had to pick just one, in this moment)?
I was in an exhibition entitled SHE at the Illumine Gallery in St Thomas, Ontario. For this show I painted "She Survived" which was donated to raise funds for Violence Against Women Services Elgin County. I felt a deep sense of purpose and joy knowing that I helped other women. Four years previous to this, I left an abusive relationship.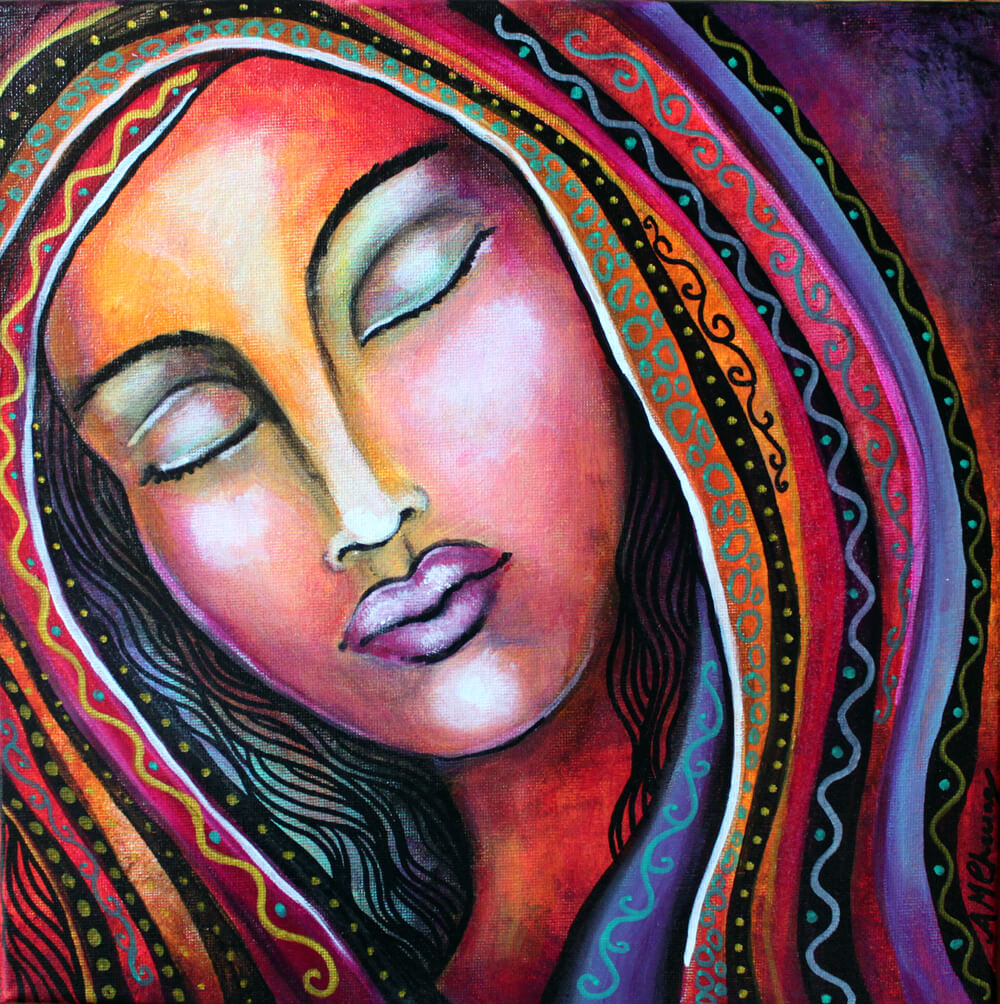 I went through a dry period of about 15 years creating no art at all while in this stifling relationship. When it inevitably came to an end, I began to make art again and have shows. I healed myself through art.
How are the two connected?
The connection I see is women helping and connecting with other women on a deeper level and being inspired and motivated by strong women.
What is your WHY?
Why I create art is to express and share my inner goddess and help people heal and feel joy through art. This is how I communicate and deeply connect with the world.
*********************
What are at least three traits those who have resonated with and/or invested in your work or your services in the past have in common with each other?
My clients tend to be leaders in the community holding an upper management position or running their own businesses. They are strong, independent, confident and usually women. They express gratitude, are generous, joyful and appreciate nature and art.
What is the one question you can ASK your potential ideal clients to learn more about how you can help them with your offers?
When it comes to making an art purchase, what is your single greatest challenge?