https://www.facebook.com/events/726553784077443/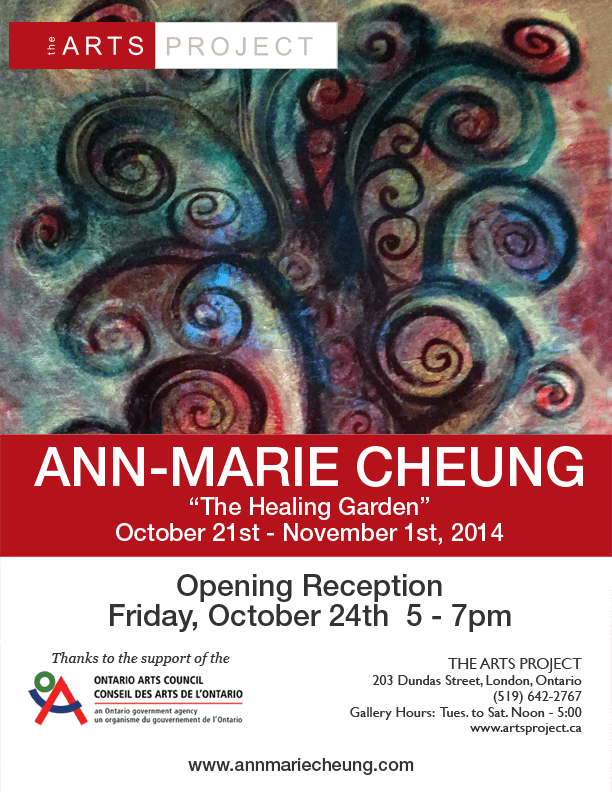 "The Healing Garden" works by Ann-Marie Cheung
October 21st – November 1st, 2014
Opening Reception
Friday, October 24th 5-7pm
"Welcome to my whimsical, magical garden.
This is where I come to play.
This is where I come to heal."
Ann-Marie Cheung is inspired by the natural world, mythology and dreams.  Many of her paintings are whimsical, colourful and playful. She mainly creates using acrylic paint but also explores mixed media, pen and ink, encaustic and glass.
Her recent body of work "The Healing Garden" explores spirituality and the process of art as a healing tool.  These present creations investigate colour, texture and patterns combining ancient symbols and mythologies to create something mystical, joyful and primitive.
Ann-Marie graduated from the Ontario College of Art in 1984 from the general studies program and in 2012 obtained The Royal Conservatory, Learning Through the Arts® (LTTA) Artist-Educator Foundations Course Certificate. Her work has been purchased by the Canada Council Art Bank and has been published in "Zen Doodle Tons of Tangles" (2013). She has had numerous exhibits across Canada and has work in private and public collections around the world.
---
Parking at The Arts Project
We do not have parking at our venue. But there is ample parking downtown!
However please factor in some extra time to find parking to avoid arriving late for an event here. There is street parking along Dundas St., King St., Clarence St. and Queen's Ave, street parking is free after 6pm and 2 hours free parking on Saturdays before 6pm.
There is underground parking at The Market on King St. (between Talbot and Richmond Sts.) and an underground lot at Citi Plaza on King St. at Clarence and an above ground ImPark pay lot directly behind our building also at King and Clarence Sts. We thank you for your understanding and your cooperation.
---
Map of downtown London, Ontario
---
---
Covent Garden Market Location, London, Ontario (Underground Parking Garage King just west of Richmond)
---
---

Citi Plaza Location, London, Ontario (Underground Parking Garage, King & Clarence)
---
---
ImPark above ground parking lot at King and Clarence (PLEASE NOTE KING STREET IS ONE WAY. you will need to approach this lot from WEST of Clarence St.) (Direct east lot beside Knight's Inn)
---