Along with other artists, I will be painting one of five picnic benches which will be placed outside on the lawn at the Norfolk Arts Centre in downtown Simcoe for the "Celebrate Simcoe: The Global Garden" project.
"This is a fun spin on the fact that Simcoe is located in Norfolk County, which has long been nicknamed Ontario's Garden. Simcoe has a distinctive international culture, which this project aims to highlight. "
"Every year, approximately five thousand seasonal workers come to the community from outside the Every year, approximately five thousand seasonal workers come to the community from outside the country – mainly Jamaica, Mexico, and Trinidad and Tobago – to work on large fruit and vegetable farms. Typically, on the weekends, the workers come downtown to shop, eat, and socialize. The atmosphere on 'Town Nights' is unique, and we want to amplify this experience by adding artwork that celebrates the diversity of the community. Gradually, the murals and picnic table art will transform Simcoe into a true 'Global Garden', enhancing the visual landscape for residents & visitors."
young & free press
The look I want to create is similar to stained glass or mosaic tiling. When I think of agriculture, our pollinators come to mind, our essential bees and butterflies. On a symbolic level, butterflies represent metamorphosis and freedom. The bees are a symbol of community, they work hard together in unity. The seat parts of the bench will include mosaic curved pathways. This illustrates our travels and our life journeys. This also honours the migrant workers, their seasonal voyages and celebrates their colourful cultures.
---
September 7th, 2021
The custom made picnic table was delivered to me and I have it set up to paint in my garage. The tables were sourced locally through Henderson Recreation Equipment Ltd. and feature galvanized frames and wood tops and seats. Very heavy!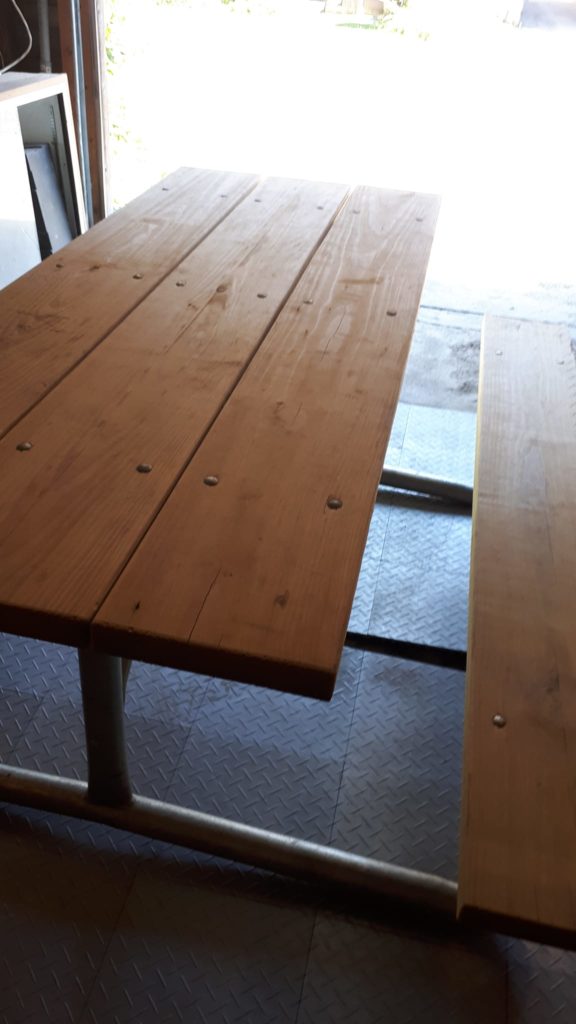 Here's my painting process. Thanks to Graphenstone paint for the base colours Paraiba (light blue), Fruity Wendy (bright red) and Yas (primary yellow). After the base colours, I drew on the details of bees and butterflies with Posca paint pens. I continued with multiple layers and blending with the paint pens. After the paint was completely dry, I applied multiple coats of a Varathane clear coat spray varnish.
---
September 20, 2021 The Final Result