(sponsored post)
Modern Methods for Vivid Acrylic Art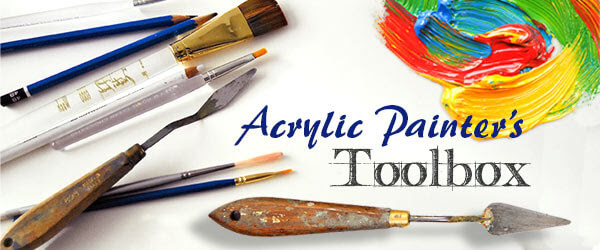 Add inspiring richness and professional quality to your acrylic artwork. Plumb the depths of modern acrylic media with me, author and artist Rhéni Tauchid, in Acrylic Painter's Toolbox, and create expressive paintings that amaze.Throughout this class, we'll use improvisational techniques that can be applied to virtually any style of acrylic painting. Rather than working on one project, I'll anchor each lesson with a collection of methods and materials ideally suited to painting a specific motif.In our first lesson, we'll explore direct painting by learning foundational techniques for handling acrylic paints through step–out demos. We'll discuss acrylic priming techniques for your canvas as we work with a still life motif, and use high viscosity to impart an opaque and painterly handling. Plus, I'll break down the expressive alla–prima method.
| | |
| --- | --- |
| | |
Next, we'll build our palette, making sure to discuss color chroma and intensity. I'll explain how to use massing to simplify your design, compose with large shapes and bring visual order and clarity to your piece.Moving on, we'll consider indirect painting and explore various layering techniques. Our reference motif during this lesson will be a floral design, as we develop a strong underpainting and apply a color wash to our petals. Play up pigment characteristics such as mass tone and undertone for a painting that conveys depth and richness of color. I'll also share tips for sealing our layers, before applying a transparent glaze to finish our piece.
| | |
| --- | --- |
| | |
Dive in to the exciting world of texture as you work with mediums, grounds and specialty colors to create an abstracted landscape. Plus, I'll share techniques for manipulating surface effects using my favorite tools, including some that can be found in your kitchen cabinets!Now, learn the importance of composing pictorial space, by abstractly painting ground, sky and landscape. I'll guide you through incorporating a self–leveling gel, and the preparation and use of a piping bag. You'll even learn important tips for achieving a beautiful finish with matte and gloss glaze.Next up is acrylic bling! Our reference motif will be a decorative cherry tree as we learn to apply stencils, use charcoal, add text and create acrylic petals. Enroll in Acrylic Painter's Toolbox today, and you'll even learn how to handle and store your acrylic masterpieces.
| | |
| --- | --- |
| | |
I am passionate about the acrylic medium. My personal work references color field painting, pattern, decoration and abstracted landscape forms. In addition to my studio practice in Kingston, Ontario Canada, I am a materials consultant, and Director of the Tri–Art Acrylic Education Program, through which I conduct workshops, demonstrations and conventions. I am also the author of two books, The New Acrylics, and its sequel, New Acrylics Essential Sourcebook, published by Random House.I look forward to connecting with you in my Craftsy class, as you learn valuable techniques that bring your expressive potential to life in impressive acrylic works.
Rhéni Tauchid | Craftsy Instructor